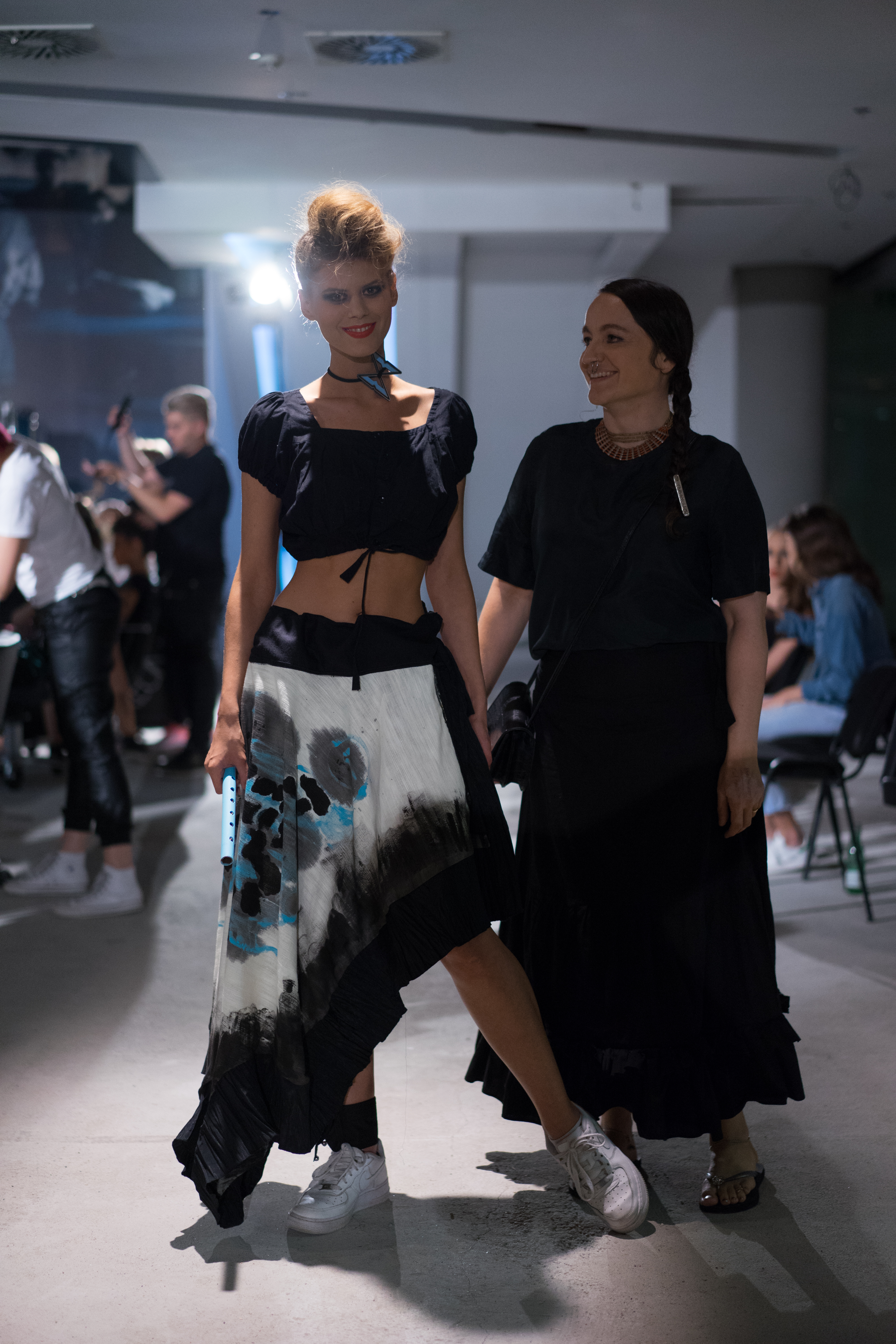 Download Mandali's 2015 portfolio
The house of MANDALI MENDRILLA was founded in 1995, by Mandali Mendrilla, a Croatian born American designer and artist.  After private tutoring in fine arts and haute couture, Mandali started her career in fashion at the 1995 Croatian Fashion Week, when she was 19 years old. Her revolutionary clubbing collection Roadrunner launched as the theme collection of the event, earning Mandali a special design excellence award and features in media like MTV Europe, as well as tutelage by senior designer colleague Mr. Goran Lelas.
Since then, the house of MANDALI MENDRILLA has functioned as an art atelier and a made to order luxury fashion studio called MANDALI MENDRILLA ATELIER, serving select clients and organizing award winning avant-garde performing art  fashion shows and fine art exhibitions.  In 2013, after meeting Ajay Shrivastav and Madhu Van Paare, the house expanded to include pret-a-porter clothing and jewellery labels MANDALI MENDRILLA and MENDRILLA LIMITEDITION, as well as a haute sports label LALALALI.
MANDALI MENDRILLA collections are regularly premiered at the official Croatian Fashion Week, and featured in media like Vogue, Tatler and Harper's Bazaar.  Well travelled and well versed in world literature, Mandali bases her work on happiness, beauty and celebration intertwined with explorations in human psychology as well as a contrasting play in basic colours and experimental patterns that explore multicultural influences and borders between the masculine and the feminine, the worldly and the transcendent, executed with attention to non-violent craftsmanship.
Since 2015, the house of MANDALI MENDRILLA is based in Durbuy, Belgium, at the Chateau de Petite Somme.
Mandali Mendrilla's collections received several Fashion Week Grand Prix awards, Best Young Designer award as well as a Migliore Creazione Alta Moda award.
BIOGRAPHY
Mandali Mendrilla grew up on the Croatian coast, attending bespoke tailoring sessions with her mother's impeccable seamstress, and lessons in fine art by Croatian sculptor Tatjana Kostanjevic and architect Igor Rukavina.
Her presence in fashion started in 1995, when her collection was selected as the theme collection of the Croatian Fashion Week and awarded a special Design Excellence award.
From 1995 to 2006, Mandali designed several avant-garde haute couture Fashion Week award winning collections, was featured on MTV Europe and other international media, organised and attended numerous fashion shows, performance art happenings and art exhibits, as well as worked with a host of Croatian celebrities and artists such as Damir Hoyka, Stephan Lupino, Rino Gropuzzo, Virgin Helene, Dave Jam, Dino Dvornik, Damir Urban, Davor Gobac, Matteo Cetinski, Let 3 and Putokazi.
In 1996, supported by senior designer Goran Lelas, Mandali was recognised by the representatives of the house of Missoni, as well as the prestigious La Quinta agency in Milan, but opted not to fully concentrate on fashion, design only for select clients and complete her studies at the Rijeka Faculty of Philosophy, where she obtained a Bachelor of Arts degree in English and Croatian Language and Literature.
In that period, Mandali also studied Bhakti Yoga and traditional arts of India under tutelage of Kenneth R. Valpey, Ph. D, University of Oxford, author of 'Attending Krsna's Image: Caitanya Vaisnava Murti-seva as Devotional Truth' (Routledge, 2006), concentrating on deity dressing, altar decoration and deity dress design.
The studies inspired several art projects, like a collaboration with British anthropologist Chantal Boulanger on "Vrndavana: The Sari Experiment".
In 2006, Mandali joined the American fashion and art scene and has since become one of the most beloved conscious artists, as featured in the March 2014 issue of The Yoga Journal. In the USA, Mandali Mendrilla is known for her collaboration with late husband and artist Elisha Drury on performance art installations in Black Rock City, Burning Man, photographed and filmed by Andre Wagner and Rasa Acarya, as well as fashion shows, exhibitions and clothing collections with profound, chic messages that attract a host of international celebrities, fashion forward thinkers and cosmopolites across the globe.
Mandali Mendrilla's collections can be found on prestigious virtual platforms as well as in select luxury and avant-garde boutiques.
AWARDS
1995 Fashion Week Croatia, Fashion News: Design Excellence Grand Prix
1996 Fashion Week Croatia, Fashion News: Grand Prix – Golden Line
1997 Fashion Week Croatia, Fashion News: Grand Prix – Golden Line
1998 Fashion Week Croatia, Awakening: Best Young Designer
2000 Sfilata Alta Moda, Istituti Callegari: Migliore Creazione